A residential garage door may need repair for a variety of reasons. Here are some of the most common causes:
Broken Springs: The springs that help lift and lower the door can wear out over time and eventually break. When this happens, the door becomes hard to open and may get stuck.
Malfunctioning Opener: The opener controls how the door opens and closes. If it's not working properly, the door might not open or close correctly or move slightly. See more about garage door opener repair services.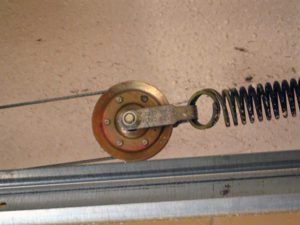 Damaged Tracks: The tracks that guide the garage door as it opens and closes can get damaged. This can make the door move unevenly or get stuck.
Worn-Out Rollers: The rollers that help move the door along the tracks can wear out. When this happens, the door might move unevenly or even get stuck.
Damaged Panels: Sometimes, the door panels get damaged from things hitting them. This can make the door not close properly or become misaligned.
Loose Hardware: The hardware that holds the door together can become loose over time. This can make the door move unevenly or hard to open and close.
Extend the Life of your Overhead Door
Regular maintenance can help prevent some of these problems and make your garage door last longer. It's important to call a professional for garage door repairs because:
Safety: Garage doors are heavy and dangerous to work on without proper training and tools. Trying to fix it yourself can lead to serious injuries.
Lack of Expertise: Garage door repairs need special knowledge and skills. Without them, you might not know what's causing the problem or make it worse by trying to fix it yourself.
Cost and Warranty: If you try to repair the door yourself, you might spend more money and void any warranty you have on the door or its parts.
Time: Fixing a garage door takes time and the right tools. Hiring a professional saves you time and lets you focus on other things.
A professional garage door technician, like John Chapman, knows how to do the job safely and correctly. He has the experience, tools, and knowledge to find the problem and fix it so your garage door works well again.
"Cal Western Overhead service is the best! We've worked with other garage door services in the past but the efficiency and care of service of Cal Western Overhead is unsurpassed. Ease of scheduling, attention to detail, neatness of work, product information, customer satisfaction and follow up we're excellent." – Philip P., Ventura, CA – via Yelp, September 2022
Contact me for emergency service.
Seven days a week – evenings and weekends too!
Cal-Western Overhead Doors provides repair services throughout Ventura Country, Santa Barbara, and the west San Fernando Valley.