Installation of New Garage Door Openers
We recommend the LiftMaster brand; they offer some of the most advanced garage door openers on the market. LiftMaster also offers advanced wireless, keyless, security, and smart home features.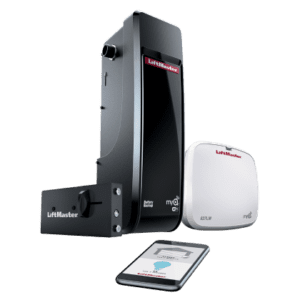 The LiftMaster 8500W side mount opener opens possibilities in your garage. By freeing up overhead space you can maximize overhead storage. The side mount also eliminates vibrations through the ceiling. This helps keep adjacent living spaces quiet. And it includes an automatic garage door lock that secures your home automatically. Click here for the LiftMaster 8500 W product brochure (PDF file).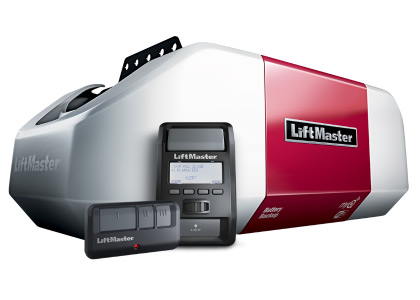 The LiftMaster 8550W Belt Drive opener features a quiet performance with built-in wi-fi and battery backup. It includes an LCD display that enables simple programming and adjustment of settings. And the three-button remote control operates up to three openers or accessories. There are also the following additional add-ons: remote light control, garage door and gate monitor, universal keyless entry, and mini universal remote control.  Click here for the LiftMaster 8550W product guide (PDF file).
Repair and Maintenance for Garage Door Openers
Regular maintenance keeps your opener working well and extends its lifespan. We offer a variety of maintenance and repair services for your existing garage door opener. This includes replacing worn or broken parts.
Contact us for a free estimate for a new opener, service, or repair to your existing garage door opener.
We provide garage door opener maintenance and repair services throughout Ventura Country, Santa Barbara, and the west San Fernando Valley, including the cities of Ventura, Saticoy, Santa Paula, Fillmore, Oxnard, Port Hueneme, Camarillo, Somis, Santa Rosa Valley, Lynn Ranch, Hidden Valley, Simi Valley, Ojai, Oak View, Casitas Springs, Mira Monte, Meiners Oaks, Santa Barbara, Mussel Shoals, Carpinteria, Summerland, Montecito, Mission Canyon, Hope Ranch, Newbury Park, Thousand Oaks, Westlake Village, Oak Park, and Agoura Hills.